| | |
| --- | --- |
| | This is a TOY page. Listed here is the information collected on this particular toy. |
Aquaman (Orin) (DCUC wave 2)
Figure (and number):
Wave 2 Figure 2
Description:
Aquaman
Basis:
modern design
Packages:
First Released
DCUC Wave 2
Buck/Body Type:
unique
Points of Articulation:
23
Character Type
hero
Official Bio
Edit
Found abandoned, Prince Orin of Atlantis was raised in the ways of the surface world and renamed by lighthouse keeper Arthur Curry. But in the water was where young Arthur Truly thrived. In adulthood, he took the name Aquaman and used his aquatic abilities to patrol the seven seas. The aquatic avenger's renown soon earned him a place among the newly assembled Justice League of America.
Other Details
Edit
Size: 16cm Accessories: trident
Includes: Gorilla Grodd's right arm
Sculpted by: The Four Horsemen
Variant/Redeco: Aquaman (Licensing Art) (DCUC wave 2)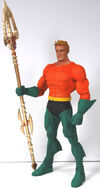 This is quite possibly the best Aquaman figure to date. The Four Horsemen capture the handsomeness of the young golden-haired hero and successfully bring in the regal grace of a King of Atlantis. The entire top body is sculpted with scales. The look echoes the SuperFriends/Super Powers era Aquaman. Aquaman uses the same hands as DCUC Classics Wave One Batman which allows for flexible hold of accessories, in this case, a perfectly-fitting trident, although taking it out of the packaging, on may find the edges bent inwards, but that can easily be fixed with a hair-dryer or hot water. Mattel spares no detail on the trident and doesn't just pain the entire thing gold but adds extra color to it. This Aquaman is the basic figure in the set with the long-haired vesrion being the variant. Be sure to check out his arch-nemesis Black Manta, also available in this wave.
Common Problems
Edit
Aquaman is the most commonly misassembled figure in DC Universe Classics, due to the scale molding obscuring the muscles, which incidated to the workers as to where each arm piece went. A great majority of Aquaman figures feature the biceps assembled on the wrong sides. This problem has continued into the Toys 'R' Us MOTU 2-pack. Like most of wave 2, the first shipments of this figure featured dramatically better quality control and lighter skin tones.
Ad blocker interference detected!
Wikia is a free-to-use site that makes money from advertising. We have a modified experience for viewers using ad blockers

Wikia is not accessible if you've made further modifications. Remove the custom ad blocker rule(s) and the page will load as expected.