| | |
| --- | --- |
| | This is a TOY page. Listed here is the information collected on this particular toy. |
Ares (DCUC wave 4)
Figure (and number):
Wave 4 Figure 5
Description:
Ares
Basis:
deity costume
Packages:
First Released
DCUC wave 4
Buck/Body Type:
basic
Points of Articulation:
23
Character Type
villain
Official Bio
Edit
A virtual outcast among the Greek gods on Mount Olympus, Ares has plotted to destroy both the Olympians and the humans who worship them. In modern times, Ares plotted Earth's destruction with nuclear warheads, a plot foiled by Wonder Woman. He seeks only to sow dissent and destruction, and will not be content until mankind eradicates itself through war.
Other Details
Edit
Size: 18cm
Accessories: axe, sword
Includes: Despero/L-Ron's left leg
Sculpted by: The Four Horsemen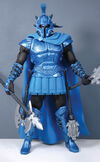 Ares is the main nemesis figure in DCUC 4, opposite Wonder Woman. He is designed to be a larger man than regular figures and still marginally shorter than the larger figures such as Despero. Pretty much the entire figure's newly sculpted. He sports a tough cape, similar to that of DCSH Superman's. He also has an armor skirt made also of tough material, so leg articulation is limited. The skirt has two hooks on the side for weapon storage, however, only the axe with the loop can be held in place.
The forearms and lower legs are detailed in as gauntlets and boots. The accessories are sculpted and painted very well. However, the accessories are of a bendier material, thus it's likely that the accessories, when coming off the package will have either the blade or the handles bent. This can be fixed by applying heat, such as by hot water or hair dryer, and setting the accessories to their proper positions. It should be noted that Ares was designed to come with two more weapons- a mace which could also be hung on the hook on his skirt as well as a spear. Possibly due to budget constraints, the number of weapons was reduced for the final version.
Ad blocker interference detected!
Wikia is a free-to-use site that makes money from advertising. We have a modified experience for viewers using ad blockers

Wikia is not accessible if you've made further modifications. Remove the custom ad blocker rule(s) and the page will load as expected.