| | |
| --- | --- |
| | This is a TOY page. Listed here is the information collected on this particular toy. |
Batman Beyond (DCUC wave 4)
Figure (and number):
Wave 4 Figure 4
Description:
Batman Beyond
Basis:
future Batman suit
Packages:
First Released
DCUC wave 4
Buck/Body Type:
basic
Points of Articulation:
23
Character Type
hero
Official Bio
Edit
Thirty years after Bruce Wayne's self-imposed retirement, Gotham City has been overrun by crime and corruption. The former Batman remains in seclusion until high-school student Terry McGinnis, fleeing members of a street gang, winds up at his door. Together they fight off the gang members. Seeing a need for a new hero to watch over his city, Bruce Wayne assumes responsibility for training Terry to become the new Batman!
Other Details
Edit
Size: 16cm
Accessories: batarang
Includes: Despero/L-Ron's left arm
Sculpted by: The Four Horsemen
Variant/Retooled into: Batman Beyond (unmasked)(DCUC wave 4)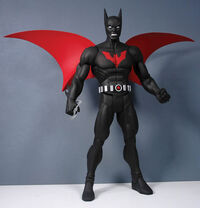 Batman Beyond is an effective use of an existing body type to create a sleek minimalist figure that echoes the popularity of the classic Batman. The only new additions to the figure are a new sculpt for the belt area, and of course, the new headsculpt. The paint finish is glossier than most figures and adds to the sleekness of the figure. The figure sadly lacks the bat wings, previously seen in press photos, that attach to his back. He does however, come with his signature batarang, albeit silver, instead of the standard black.
Ad blocker interference detected!
Wikia is a free-to-use site that makes money from advertising. We have a modified experience for viewers using ad blockers

Wikia is not accessible if you've made further modifications. Remove the custom ad blocker rule(s) and the page will load as expected.