| | |
| --- | --- |
| | This is a TOY page. Listed here is the information collected on this particular toy. |
Booster Gold (modern)(DCUC wave 7)
Figure (and number):
Wave 7 Figure 4
Description:
Booster Gold
Basis:
modern suit
Packages:
First Released
DCUC wave 7
Buck/Body Type:
basic
Points of Articulation:
23
Character Type
hero
Official Bio
Edit
While working security for the space museum in the 25th century, Michael Jon Carter used Rip Hunter's Time Machine to visit different eras, stealing security robot Skeets, a Legion of Superheroes flight Ring, and Brainiac 5′s force field belt. With these, he traveled to the 20th century to reinvent himself as a hero, Booster Gold. Currently, Booster patrols the time stream preventing villains from altering the past in order to change the present and future.
Other Details
Edit
Size: 16cm
Pack-in: Skeets/Mr. Mind figure
Includes: Atom Smasher's left leg
Sculpted by: The Four Horsemen
Variant of/Retooled from: Booster Gold (classic)(DCUC wave 7)
Running Change
Edit
A running change was made extremely late in the game to better match the gloves of the prototype. Because the change was so late in production, it only appeared in a few foreign markets.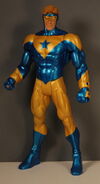 Ad blocker interference detected!
Wikia is a free-to-use site that makes money from advertising. We have a modified experience for viewers using ad blockers

Wikia is not accessible if you've made further modifications. Remove the custom ad blocker rule(s) and the page will load as expected.