| | |
| --- | --- |
| | This is a TOY page. Listed here is the information collected on this particular toy. |
Captain Atom (DCUC wave 4)
Figure (and number):
Wave 4 Figure 3
Description:
Captain Atom
Basis:
basic design
Packages:
First Released
DCUC wave 4
Buck/Body Type:
basic
Points of Articulation:
23
Character Type
hero
Official Bio
Edit
Rather than face a life in prison for a crime he did not commit, Air Force captain Nathaniel Adam volunteered to take part in the top secret "Captain Atom Project". But an atomic explosion accidentally bonded a living alien metal to Adam and sent him hurtling forward in time to the modern day. The trasnformed convict was given a new lease on life as the nuclear-powered DC super hero, Captain Atom.
Other Details
Edit
Size: 16cm
Accessories: none
Includes: Despero/L-Ron's head and torso
Sculpted by: The Four Horsemen
Variant/Redecoed into: Captain Atom (Kingdom Come)(DCUC wave 4)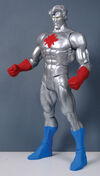 Captain Atom is a brilliant use of a basic body type to create a figure. His body is entirely painted but the contrasts of colors are bold enough to give the impression of being sculpted over. This version is the original comic design. To distinguish from the reds used by the variant, a more neon-ish faded red is used. His shoulder joints are unpainted and are an almost translucent white. However, the color comes close enough that it does not detract from the overall look of the figure.
Ad blocker interference detected!
Wikia is a free-to-use site that makes money from advertising. We have a modified experience for viewers using ad blockers

Wikia is not accessible if you've made further modifications. Remove the custom ad blocker rule(s) and the page will load as expected.