| | |
| --- | --- |
| | This is a TOY page. Listed here is the information collected on this particular toy. |
Captain Marvel (DCUC wave 6)
Figure (and number):
Wave 6 Figure 5
Description:
Captain Marvel
Basis:
basic design
Packages:
First Released
DCUC wave 6
Buck/Body Type:
basic
Points of Articulation:
23
Character Type
hero
Official Bio
Edit
Drawn to a secret cavern beneath the subway, orphan newsboy Billy Batson met the immortal wizard "Shazam!", who granted Billy superpowers to do battle with evil. By uttering Shazam's name aloud, Billy was thus transformed into not only an adult, but the World's Mightiest Mortal; empowered with the wisdom of Solomon, the strength of Hercules, the stamina of Atlas, the power of Zeus, the courage of Achilles, and the speed of Mercury.
Other Details
Edit
Size: 16cm
Accessories: none
Includes: Kalibak (DCUC wave 6) left leg
Sculpted by: The Four Horsemen
Repainted into: Captain Marvel (unreleased DCUC)
Running Changes
Edit
The All-Star re-release of "Shazam" featured a darker red running change(which reflected the third Mary Marvel variant). It was spotted in Toys 'R' Us with the wave 8 and 9 shipments.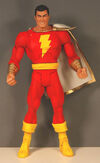 Captain Marvel makes use of a lot of new parts. He comes with a smiling headsculpt as opposed to the usual serious or stoic expressions given to the typical DCUC figure. An all-new cape is also given to him hanging on one shoulder. The cape is hardly flexible. He is given a sash belt, though it isn't the type that hangs off the side. He also sports sculpted thick gold bracelets and boots with little sew marks. It's interesting to note that the figure uses two different shades of gold and yellow all in one figure. Yellow is used for all his 'cloth' parts on the costume itself, while gold is used for the cape lining and his bracelets. The embroidery on his cape uses a more copper-like gold. One minor issue is that his logo 'breaks' when the ab joint has him bending backward. This is because his lower ab joint's hidden area was not painted to compensate for the break.
It should be noted that his nemesis, Black Adam, appears in Wave 9. While Mr. Mind comes with Booster Gold (modern)(DCUC wave 7).
There was also a planned variation in a Wal-Mart 2-pack with Wonder Woman that swapped the gold paint aps for yellow, to better match both Mary Marvel versions.
Ad blocker interference detected!
Wikia is a free-to-use site that makes money from advertising. We have a modified experience for viewers using ad blockers

Wikia is not accessible if you've made further modifications. Remove the custom ad blocker rule(s) and the page will load as expected.