| | |
| --- | --- |
| | This is a TOY page. Listed here is the information collected on this particular toy. |
Cheetah (modern)(DCUC wave 13)
Figure (and number):
Wave 13 Figure 5
Description:
Cheetah
Basis:
Barbara Minerva in iconic 'nude'
Packages:
First Released
DCUC wave 13
Buck/Body Type:
female
Points of Articulation:
23
Character Type
villain

This Cheetah is also known as the nude version.
Official Bio
Edit
Several individuals have taken the name of Cheetah over the years. The first was a socialite named Priscilla Rich who resented the fame of the Wonder Woman of the 1940′s. Turning a cheetah-skinned rug into a costume, she tangled with the amazon several times. Decades later, glory-hunting archaeologist Barbara Minerva stumbled across an African tribe in the midst of a bloody ritual. She forced them to make her a part of the ceremony so she could become the vessel for the Cheetah spirit, attaining the abilities and feral nature of one of Wonder Woman's greatest, most enduring foes.
Other Details
Edit
Size: 14cm
Accessories: none
Includes: Trigon's right leg, DC75 button pin
Sculpted by: The Four Horsemen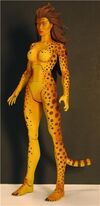 This Cheetah was the original planned for release alongside the classic version. At ToyFair 2010, it became apparent that it would be replaced in regular retail with a clothed version[1], presumably to veer away from the controversial look. [2] Mattel said that they'd still get the version available for sale. Comic stores and online retailers received them as part of their packouts. Corner Store Comics reportedly received most bulk of them. [3] Because of this, this version of Cheetah remains less common than other versions.
The cardback has no picture of this figure, but shows the classic version instead.
References
Edit
Ad blocker interference detected!
Wikia is a free-to-use site that makes money from advertising. We have a modified experience for viewers using ad blockers

Wikia is not accessible if you've made further modifications. Remove the custom ad blocker rule(s) and the page will load as expected.