| | |
| --- | --- |
| | This is a TOY page. Listed here is the information collected on this particular toy. |
Cyborg (DCUC wave 4)
Figure (and number):
Wave 4 Figure 2
Description:
Cyborg
Basis:
basic design
Packages:
First Released
DCUC wave 4
Buck/Body Type:
unique
Points of Articulation:
23
Character Type
hero
Official Bio
Edit
Victor Stone's dreams of Olympic fame were crushed when his scientist father inadvertantly released a creature from another dimension. Victor's mother was killed by the creature and Victor suffered crippling injuries. To save his son's life, Silas Stone grafted Cybernetic limbs to Victor, turning his son into more machine than man. Known as Cyborg, he is advisor and trainer to the Teen Titans.
Other Details
Edit
Size: 16cm
Accessories: scanner and claw OR sonic arm (only) with the variant
Includes: Despero/L-Ron's right arm
Sculpted by: The Four Horsemen
Variant: same figure, only with different packaging layout and accessory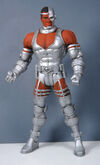 Cyborg is an entirely new sculpt with incredible detail and an effectively-executed silver finish. This regular version comes with two arm replacements, for use only with the right hand. The hand pops off very easily to replace with a scanner device or a mechanical robot claw. The left arm is a departure from usual DCUC design as its peg is reversed and the articulation is a cut in the middle of the arm, likely to discourage using the left arm for device switches.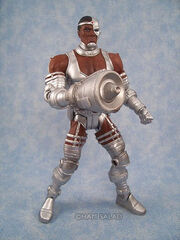 A variant Cyborg is an exact duplicate of the original Cyborg figure. This variant version comes with only one arm replacement, for use only with the right hand, as opposed to two which came with the regular version. The hand pops off very easily to replace with the exclusive 'sonic arm' accessory. Originally a Kb Toys exclusive, it soon shipped to other stores and became a standard variant.

Ad blocker interference detected!
Wikia is a free-to-use site that makes money from advertising. We have a modified experience for viewers using ad blockers

Wikia is not accessible if you've made further modifications. Remove the custom ad blocker rule(s) and the page will load as expected.