| | |
| --- | --- |
| | This is a TOY page. Listed here is the information collected on this particular toy. |
Dr. Impossible (DCUC wave 6)
Figure (and number):
Wave 6 Figure 1
Description:
Dr. Impossible
Basis:
basic design
Packages:
First Released
DCUC wave 6
Buck/Body Type:
basic
Points of Articulation:
23
Character Type
villain
Official Bio
Edit
Who is Doctor Impossible? On the surface, he appears to be a dark, mirror-image of Mister Miracle. Where Mister Miracle is aided in his fight against evil by a personal super-computer known as Mother Box, Doctor Impossible accomplishes his evil deeds with the help of his "Father Box." Doctor Impossible claims to be Mr. Miracle's brother from Apokolips. Origins aside, Doctor Impossible remains a formidable foe and disturbing flip-side to the powers of Mister Miracle.
Other Details
Edit
Size: 16cm
Accessories: none
Includes: Kalibak (DCUC wave 6) right leg
Sculpted by: The Four Horsemen
Variant of/Redecoed from: Mr. Miracle (DCUC wave 6)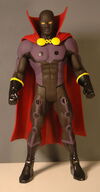 Dr. Impossible uses the same buck body as Mr. Miracle but without any sculpted detail whatsoever. He also shares Mr. Miracle's all-new cape. The figure doesn't offer much color contrast but is accurately painted. Unlike Mr. Miracle, the soles of his feet are not sculpted with special detail and his peg-holes are just standard. The figure comes with no accessories.
Ad blocker interference detected!
Wikia is a free-to-use site that makes money from advertising. We have a modified experience for viewers using ad blockers

Wikia is not accessible if you've made further modifications. Remove the custom ad blocker rule(s) and the page will load as expected.