Green Lantern ► Green Lantern (JLU)
John Stewart ► Green Lantern (JLU)
Justice League Unlimited (figures) ► JLU Characters in Figures ► Green Lantern (JLU)
| | |
| --- | --- |
| | This is a CHARACTER page. See below for all available action figures based on this version of the character. |
Green Lantern (JLU)
Alias:
Green Lantern
Real Name:
John Stewart
Place of Origin:
Earth
Affiliation:
Justice League
First Appearance
Secret Origins
Voice Actor:
.
Character Type:
hero

This article refers to the character John Stewart, for whom the moniker Green Lantern is used in Justice League Unlimited-releated media. For other characters that carry the name, see Green Lantern Corps (JLU) and Hal Jordan (JLU)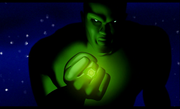 John Stewart is a veteran member of the elite Green Lantern Corps, an intergalactic peacekeeping force founded by the Guardians of Oa. The Guardians provide each Green Lantern with a power ring that must be recharged every 24 hours from a lanternlike power source. Acting as the ultimate defensive weapon, the ring responds to mere thought and can project powerful laserlike beams or impenetrable force fields. Its emerald aura also protects the wearer from the harsh environs of deep space.
Years ago, the Guardians of Oa recognized John Stewart's potential for exceptional courage and heroism. Awarding him a power ring, they trained him to be the Green Lantern for Sector 2814, a quadrant of the galaxy that includes our own solar system. For more than 10 years, John has patrolled the deepest reaches of space.
Now, he has returned home to protect Earth as a member of the Justice League. Unfortunately, the hard-nosed military attitude that makes John an ideal Green Lantern often creates friction with his fellow Justice Leaguers. Because he views himself as an authorized professional peacekeeper, he sometimes treats the others like well-meaning amateurs.
Green Lantern 1
Edit
Click to see more details and history.
Green Lantern 2
Edit
Click to see more details and history.
Green Lantern 3
Edit
This sculpt is practically identical to the second sculpt but leaves out any sculpted lines on the figure, leaving the sculpt free to be painted over. Oddly enough, it was also used to release a Green Lantern figure with a basic deco, which became exclusive to a convention exclusive pack. Click to see more details and history.
Green Lantern 4
Edit
This figure is essentially the Green Lantern head on an unetched Green Lantern body. First made to create a counterpart to the character, it then became the standard.
Click to see more details and history.
Ad blocker interference detected!
Wikia is a free-to-use site that makes money from advertising. We have a modified experience for viewers using ad blockers

Wikia is not accessible if you've made further modifications. Remove the custom ad blocker rule(s) and the page will load as expected.