Justice League Unlimited (figures) ► Green Lantern JLU figures ► Green Lantern 1 ver 1
| | |
| --- | --- |
| | This is a TOY page. Listed here is the information collected on this particular toy. |
Green Lantern 4 ver 1
Figure (and number):
Green Lantern 4 ver 1
Description:
Power Ring
Basis:
comic-inspired
First Released
2010
Buck/Body Type:
Green Lantern 4
Points of Articulation:
5POA
Character Type
villain, CS member
Official Bio (from JLU cardback)
Edit
"In a parallel dimension on a planet called "Earth 3," a mystic named Volthom gave Power Ring a cursed ring and power battery with the power to create constructs from his willpower and imagination. He has become an evil parallel version of Green Lantern. As a member of the Crime Syndicate of America led by Ultraman, he wreaks havoc across the universe."
Original review by j1h15233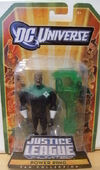 Ready for another John Stewart repaint? Probably not, but at least this one gives us a new character. Power Ring uses a blank buck so there are no sculpted details painted over and he uses the bald John Stewart head. The head has a much thicker goatee than the previous releases which strangely enough makes him look more evil and angry and the costume is perfectly comic accurate. He's certainly more accurate than Superwoman. His costume details are pretty simple but the paint work is sharp and crisp and he will look great with the rest of the Crime Syndicate assuming Mattel ever finishes the team. Power Ring also comes with the giant hand accessory we have seen before. It's an interesting accessory but there was no way I could pose the figure that didn't make him topple over so I don't see how anyone could really use it. Power Ring should make a great addition to your shelf and he is another smart repaint from Mattel.
Figure history
Edit
The single card release was found on ebay May 2010. No other news of a single-carded version was officially stated before then. Soon after, the figure became retail-available.
Releases and accessories
Edit
3-packs