Hal Jordan ► Hal Jordan (JLU)
Justice League Unlimited (figures) ► JLU Characters in Figures ► Hal Jordan (JLU)
| | |
| --- | --- |
| | This is a CHARACTER page. See below for all available action figures based on this version of the character. |

Hal Jordan is first seen (chronologically) in the Justice League: Crisis On Two Earths DTV/OAV. Here he takes the place of the recently heavily-injured, ringless John Stewart as Green Lantern of Earth. He assists the Justice League in Stewart's place in fixing up the new Watchtower, when an alternate version of Lex Luthor asks for their assistance in dealing with the Crime Syndicate back in his home universe. This begins to become a complicated mission when like the other leaguers, Hal finds a counterpart to a Green Lantern in the person of Power Ring, as well as a large number of made men under his and the rest of the Syndicate's employ. Added to the conflict of the Syndicate gaining ground over the government, the league find that Owlman has something larger in mind- the destruction of all worlds.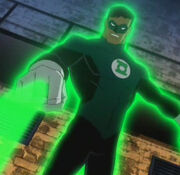 As John Stewart takes his place back as the Green Lantern, we do not see more of Hal Jordan, that is until a
time shift
caused by Chronos' tampering forces Stewart to have to traverse time, where, in the future, he is taken out of the timeline and replaced by Hal Jordan. Hal's reappearance proves to be temporary, though, as John is rewritten back into reality.
In part two of the Justice League: Chronicles DVD featurette, the creative team revealed that it was once planned to have a 'Big 7' episode featuring the first appearances of Hawkman and Barry Allen as the Flash, as well as the return of Hal Jordan himself. However this didn't pan out. However, they decided to keep Hawkman in the show.
Rare Figure
Edit
Con-Exclusive
Edit
Ad blocker interference detected!
Wikia is a free-to-use site that makes money from advertising. We have a modified experience for viewers using ad blockers

Wikia is not accessible if you've made further modifications. Remove the custom ad blocker rule(s) and the page will load as expected.