| | |
| --- | --- |
| | This is a TOY page. Listed here is the information collected on this particular toy. |
Harley Quinn (DCUC wave 2)
Figure (and number):
Wave 2 Figure 3
Description:
Harley Quinn
Basis:
basic design
Packages:
First Released
DCUC wave 2
Buck/Body Type:
basic
Points of Articulation:
23
Character Type
villain
Official Bio
Edit
An Arkham Asylum psychiatrist assigned to treat The Joker, Dr. Harleen Quinzel was instead driven mad by the Clown Prince of Crime and helped him escape. Nealy as insane as The Joker himself, Harley Quinn is a villent and unpredictable felon who will do anything to prove her love and loyalty to The Joker, her beloved.
Other Details
Edit
Size: 15cm
Accessories: cork-gun, mallet
Includes: Gorilla Grodd (DCUC wave 2) head/torso
Sculpted by: The Four Horsemen
Running Changes
Edit
Earlier versions of Harley feature a nearly sky-blue face, and later runs have more white base-paint, with blue overspray on the cheeks due to fan complaints about the original blue skin tone.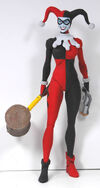 Harley utilizes the same 'girl' body that Supergirl, Batgirl and Catwoman are based off of. Cuffs and pixie boot folds were also added. She has a blue-tint wash consistent to that of the Joker (released in the last DCSH line). The new hands supplied have a wide grip but it'll take a little effort to hold the accessories in place. Harley is a great addition to Batman's rogues.
Ad blocker interference detected!
Wikia is a free-to-use site that makes money from advertising. We have a modified experience for viewers using ad blockers

Wikia is not accessible if you've made further modifications. Remove the custom ad blocker rule(s) and the page will load as expected.