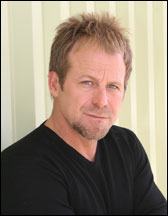 Kin Shriner (born December 6, 1953) is an American actor. He plays Green Arrow in Justice League Unlimited (show). According to the TV Guide for the week of July 25-31, Kin Shriner was so dedicated to his role as Green Arrow that he showed up at the recording studio dressed as the character from the comic book.
He is best known for playing Scott Baldwin on both daytime serials General Hospital (1977-1993, 2000-2004, 2007-2008) and Port Charles (1997-2000, 2001).
Personal Life
Edit
Shriner was born in New York, New York, the twin brother of fellow actor, Wil Shriner. Kin being the elder by six minutes. Their father was humorist and television host Herb Shriner. While he was in high school, both of Shriner's parents died in a car crash. He and his brother Wil then moved to Texas, where they were raised by their grandmother.
When not acting, Shriner resides in Fort Lauderdale, Florida.
After once working as a door-to-door Fuller Brush salesman, Shriner began to appear on GH as Scotty Baldwin. He would play the role in four decades and say that the role has "been a part of his entire adult life.". From 1980 to 1981, Shriner was a cast member in the early phase of the short-lived NBC soap opera Texas.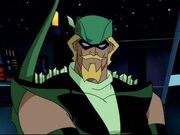 Shriner joined the cast of As the World Turns as Julia Larrabee (Sarah Brown)'s brother Keith Morrissey from February 2005 to January 2006.[2] His role drew favourable reviews, though his character wasn't well received by most fans of the show as he broke up popular couple, Holden (Jon Hensley) and Lily Snyder (Martha Byrne). Shriner called the ATWT role, "The most fun I've had in a long time."
He has had recurring guest-starring roles on Baa Baa Black Sheep, Full House, and Justice League Unlimited.
Recommended Reading
Edit
Ad blocker interference detected!
Wikia is a free-to-use site that makes money from advertising. We have a modified experience for viewers using ad blockers

Wikia is not accessible if you've made further modifications. Remove the custom ad blocker rule(s) and the page will load as expected.