| | |
| --- | --- |
| | This is a TOY page. Listed here is the information collected on this particular toy. |
Martian Manhunter (DCUC wave 15)
Figure (and number):
Wave 15 Figure 4
Description:
Martian Manhunter
Basis:
Super Powers design
Packages:
First Released
DCUC wave 15
Buck/Body Type:
basic
Points of Articulation:
23
Character Type
hero
Official Bio
Edit
J'onn J'onzz lived with his family on Mars until the mad preist Ma'alefa'ak set off a telepathic plague, leaving J'onn the only survivor. He wandered Mars' surface for decades until he was transported to Earth by Saul Erdel's teleportation machine. He adopted the identity of a murdered detective named John Jones. Eventually, choosing the name Martian Manhunter, J'onn became a founding member of the Justice League of America and devoted his life to the team.
Other Details
Edit
Size: 14cm
Accessories: none
Includes: Validus's lower torso and head, DC75 collector button
Sculpted by: The Four Horsemen
Variant/Retooled into: Martian Manhunter (alien form) (DCUC wave 15)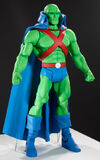 Ad blocker interference detected!
Wikia is a free-to-use site that makes money from advertising. We have a modified experience for viewers using ad blockers

Wikia is not accessible if you've made further modifications. Remove the custom ad blocker rule(s) and the page will load as expected.