The Flash ► The Flash (JLU)
Wally West ► The Flash (JLU)
Justice League Unlimited (figures) ► JLU Characters in Figures ► The Flash (JLU)
| | |
| --- | --- |
| | This is a CHARACTER page. See below for all available action figures based on this version of the character. |
The Flash (JLU)
Alias:
The Flash
Real Name:
Wally West
Place of Origin:
Star City
Affiliation:
Justice League
First Appearance
Secret Origins
Voice Actor:
Michael Rosenberg
Character Type:
hero
Official Bio
Edit
Young, brash, and impulsive, Wally West gained the power of super-speed during a freak electro-chemical accident. Now the fastest man alive, he can run at velocities approaching the speed of light. Even Superman has a hard time keeping up with him. Because of his superfast metabolism, Wally is constantly hungry.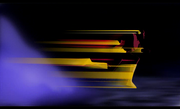 Also blessed with a quick wit, Wally takes a lighthearted view of saving the universe. He is the comedian of the group, a wisecracking, easygoing slacker who relies on speed, not brains, to get him out of trouble. Unfortunately, this doesn't always work, and his flippant attitude annoys his teammates who take their jobs far more seriously. Often, this over-reliance on speed will get him in over his head, and his teammates will have to catch up to rescue him. For them, there is one thing Flash cannot do fast enough, grow up.
The Flash 1
Edit
This 5POA version of The Flash was released first in the Justice League (toyline) series, single carded. Eventually redecos/repaints followed until the sculpt was retired in favor of the second more-articulated sculpt, seen below. The sculpt returned later on following years of fan demand and became once again the staple Flash sculpt.
Click to see more details and history.
The Flash 2
Edit
Click to see more details and history.
The Flash 3
Edit
Click to see more details and history.

The Flash (Wally West)'s 2011 costume was inspired by his Justice League animated appearance.
Ad blocker interference detected!
Wikia is a free-to-use site that makes money from advertising. We have a modified experience for viewers using ad blockers

Wikia is not accessible if you've made further modifications. Remove the custom ad blocker rule(s) and the page will load as expected.