| | |
| --- | --- |
| | This is a TOY page. Listed here is the information collected on this particular toy. |
Zatanna (DCUC wave 14)
Figure (and number):
Wave 14 Figure 7
Description:
Zatanna
Basis:
classic and current design
Packages:
First Released
DCUC wave 14
Buck/Body Type:
basic
Points of Articulation:
21
Character Type
hero
Official Bio
Edit
Zatanna is the daughter of magician Giovanni "John" Zatara and Sindella, a sorceress of the mysterious Homo Magi. Like her parents, Zatanna is predisposed to magical powers, including elemental manipulation, transmutation, and teleportation. Her spells are spoken backwards, just as her father once did as an arcane adventurer. Zatanna first wielded her powers in an attempt to find and rescue her father from the evil witch Allura. In doing so, the young sorceress teamed with several heroes of the Justice League of America, eventually leading to her membership.
Other Details
Edit
Size: 14cm
Accessories: top hat, wand
Includes: Ultra-Humanite's left arm, DC75 button pin
Sculpted by: The Four Horsemen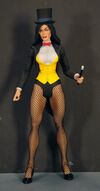 Zatanna is done in very much the same manner as Black Canary (DCUC wave 9) with a few notable different differences. She has a removable hat and her hair is flat enough to accomodate the hatHear head is not a balljoint but a simple neck peg. Articulation there however is quite limited to only a little turn front left and front right. The styling of the hair has a slight sweep which seems to suggest the possibility of movement but the lower part of the hair still restricts movement. Her tux is a soft rubber piece that can be removed from the figure itself with care. It's a perfect match for the molded arms though. The hands are molded slightly differently with a thick middle finger mold presumably to allow her to hold her hat and wand better. Like Black Canary before her, she is also done with real fishnet stockings, which are glued/seamed at the back of her legs and with the ends tucked under her hip joints and inside her (real) high heels. It should also be noted that she has no sideways hip joints.
Maintenance of the Stockings
Edit
Over time the stockings may start loosening. This is only due to the stockings being pulled from the ends at the hips and the heels. To tighten them, simply massage and pull the stockings up to the edge of the hip joint as far as possible and leave the excesses there. This'll cause the stockings to appear tight again.
Play warning!
Edit

Zatana's lower torso has the ends of the vest molded on and hanging loosely. However, it is still hard platic. Twisting her hip joint will cause the edge of the vest to break off or at least bend unnaturally, which will cause light discoloration on the hard plastic at the bent area.
Zatanna cannot move her legs sideways or do a split position. She has an old-style t-crotch which only allows her to move her legs frontways and back, and not the standard DCUC hip joints, which go sideways. Forcing it to do so can break the pegs.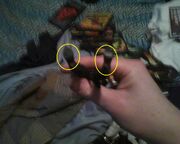 Zatanna has no Foot hole this makes so she cannot use a base, In addition to this she wears heels so even her free standing is difficult without the base.
Ad blocker interference detected!
Wikia is a free-to-use site that makes money from advertising. We have a modified experience for viewers using ad blockers

Wikia is not accessible if you've made further modifications. Remove the custom ad blocker rule(s) and the page will load as expected.